A few of weeks ago, I (Angela) had the amazing opportunity to travel to the US to be with some of my family on their vacation to the beach. Most missionaries don't talk much about vacations but I'm here to tell you that we need them!  For me this was more than a vacation, it was a time of retreat and refreshment. And for others (not limited to missionaries) that is also true. It was a wonderful time to be together with family, enjoy some warm/hot weather, hear and see the ocean, and view sunsets that make you praise the Lord!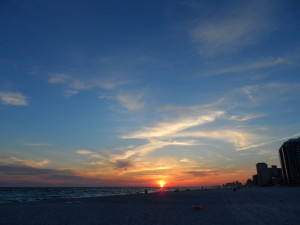 For me, the beach is all about rest, rejuvenation, relaxation, and being amazed by God's intricate yet vast creation. In the past, I have such memories of Christ drawing me near to Himself at the beach. That was also true of this trip.
My body, brain, emotional self were tired, beat down and depressed. You see, life is hard. For most all of us, there are things that we have faced in our lives that we would not wish on our worse enemy. Us losing our 4th child to early miscarriage was just another rung in that ladder that you hope no one else ever has to climb.  I feel like I have been well, but I could tell that the weight of just having celebrated the 1 year anniversary of our sweet boy James Adam entering into heaven and then the weight of losing another pregnancy was taking its toll on me. Ross and I came to the conclusion without hesitation that I needed retreat.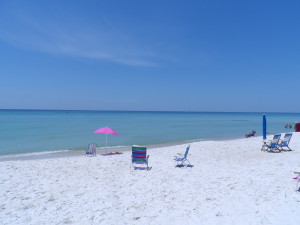 So, I surprised my mom for Mother's day by letting her know that I would be joining them on their upcoming vacation in the middle of May. Oh the joy!! And the trip was amazing. Not only on the fun scale, but on the rejuvenation scale as well. One thing that the Lord continued to bring to mind is that "His mercies are new every morning" (Lamentations 3:22-23). Even before my trip, the Holy Spirit was bringing these verses to mind. And that was a struggle! I knew these verses in my head and in my heart. I knew that it was true, but most mornings I didn't feel like His mercies were new. And realizing that I didn't feel that way was one of the first signs that I needed retreat. And I am so glad that I listened to the promptings of the Holy Spirit to realize that things weren't necessarily a-okay. And waking up at the beach and spending the day in awe of God's creation was healing. The rays from the large sun at sunset, seemed to pierce my soul with warmth and reminder of His love.  The birds chirping in the morning, a reminder of His provision for us. The words of a song reminding me that it is okay to mourn and to rest in His unfailing arms. Psalm 34:18 says, "The LORD is near to the brokenhearted and saves the crushed in spirit." I can say that I was held near and rescued!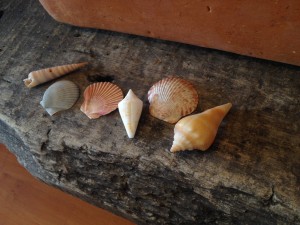 So now I am back here in Bogotá and truly feel refreshed. One of the final nights on the beach we headed out to walk at sunset. I was able to find some really cool sea shells with the help of my mom. I decided to display some of them in our living room. 6 of them. It is crazy to think that if our world was not plagued with the fall of man, that we would be a family of 6. But we live in this broken world, and we remain to most a family of 2. And in this and before this, Christ has called us to himself. He has called us into salvation from this condemnation, yet we must still live here and face hard things . . . and for what?! For the glory of God. For His glory, we have peace and comfort.  For His glory, we have walked this hard road of having a family. For His glory, we mourn our sweet babies. For His glory, we rejoice often in his goodness. For His glory, we share our story of His faithfulness to us.
All for the glory of God!
~Ange
– – – More photos from my trip – – –
Save
Save