Support Us
The success of our mission depends on the prayers and partnership of people just like you! If you would like to partner with us, there are two simple ways you can do that – pray and give.
1. Pray! – We need prayer partners who will diligently pray for our ministry and for us. The best way for you to know our specific prayer needs is to subscribe to our monthly newsletter.
Prayer IS the ministry.
2. Give! – We need to raise $7,300 in monthly pledges plus a one-time amount to get us to the field and keep us there for 2 to 3 years. These funds will cover intensive trainings, moving to the field, housing, salary, benefits, ministry expenses and other essential items. Below are different methods that you can give financially to our ministry. We need both one-time and recurring gifts. Please pray and see how God will use you to help us reach our goal.
Be a Bean…What is a Bean?
Because coffee is a major export of Colombia, we like to affectionately call the sustaining members of our support family who give on a recurring basis a bean…coffee bean! View this giving chart to see what type of coffee bean you may be. Whether you can give $5 or $500 a month, your gift is greatly appreciated. Your recurring donation can be sent in monthly, bi-monthly, quarterly or annually. What ever works best for you, works for us! If you have any other questions, view our Be a Bean page for some FAQs.
Options to contribute a one-time gift:
Donate online: Click here (Floyd – 12439)
Mail your check to MTW, PO Box 744165, Atlanta, GA 30374-4165. Note: "12439 – Floyd" in the memo.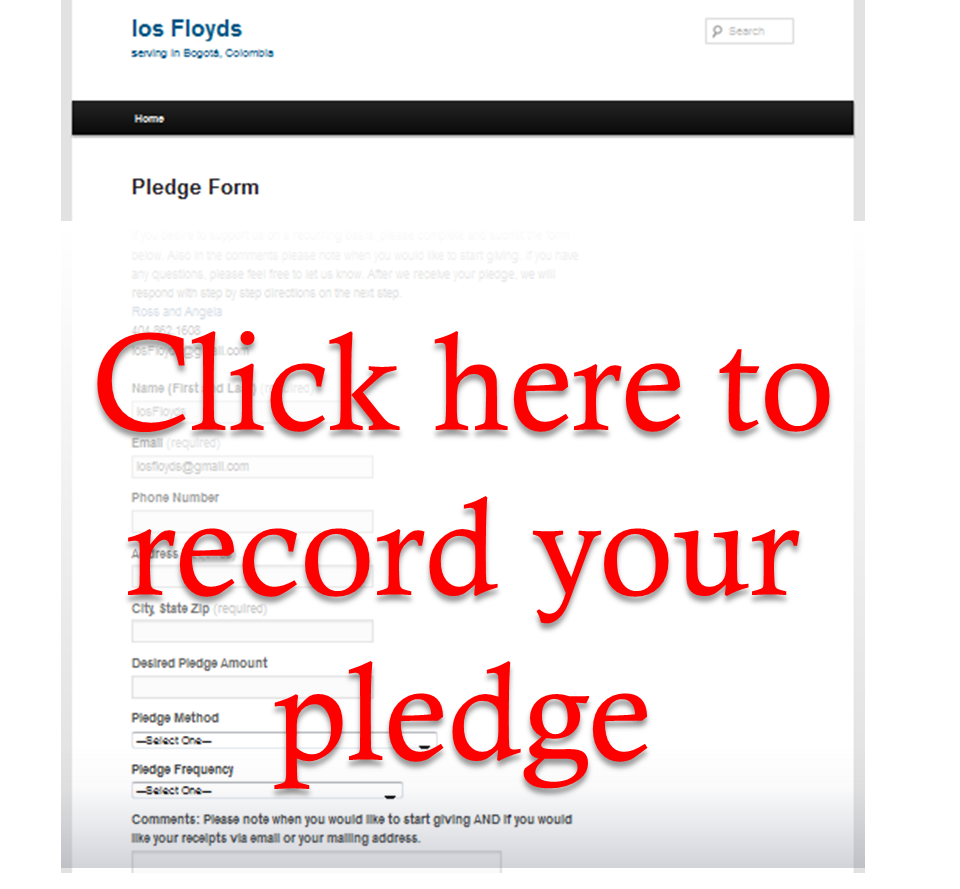 Setup a recurring gift:
Click here to complete and submit a pledge form.Once you submit the form, we will send you a follow up email based on the options that you choose for desired method of giving.
*All donations are tax-deductible.
As always, if you have any questions at all, feel free to contact us! 

All donations made payable to Mission to the World are tax-deductible.
Send Donations to:
Mission to the World
PO Box 744165
Atlanta, GA 30374-4165
Note "Floyd – 12439″ in the memo.
Record your Pledge
using the electronic pledge form
Pledge Now